Lighting control Dimming systems consist of 2 main sections:
1 - The LOGIC lighting controls section that includes the wall controls, signal processing electronics , firing cards, room combiners, etc... REPLACED
2 - The POWER Dimmers section which includes Triacs or SCRs, Chokes , heat sinks, Breakers, connectors, etc... ( dimming modules) all mounted inside a large electric cabinet. REUSED
The most costly of the two sections is the POWER Dimmer section (2). In most cases, it is not the source of the problems. Even the new dimmers' POWER sections are built based on the same technology developed in the early seventies therefore nothing is improved by replacing most of them.
______________________________________________________________
What only needs upgrading / retrofitting in existing dimming systems is the LOGIC lighting control section (1). The PROTOCOL allows to inexpensively Retrofit, upgrade or repair existing dimming systems made by other manufacturers.
It is done by connecting the PROTOCOL logic modules MD400 ( firing card for 4 dimmers ) & control stations PSFxx to the existing dimmer modules.
The installation does not require any costly work on the Line Voltage side & utilizes the existing control wiring.
Besides providing a reliable and fully featured dimming system, this type of UPGRADE / RETROFIT saves a lot of money and reduces to nothing any future dimming system's maintenance needs and costs.
By replacing problematic lighting controllers with the new PROTOCOL front end components using existing wiring this retrofit rebuild solution adds features, flexibility and years of reliable performance to an otherwise condemned dimming system.
The upgrade results in a digital dimming system that could interface seamlessly with Audio Visual and other control equipments, with features like 254 scenes and multi way controls, Universal infrared compatibility along with the capability of combining controls for Multi Room applications via the PTAxx patch panels room combiners.

Whether you do Dimming Systems repair, service and maintenance or you own an old dimming system ,just E-mail Us or call us to perform a free feasibility study.
Example of MD400 installed in Prescolite cabinet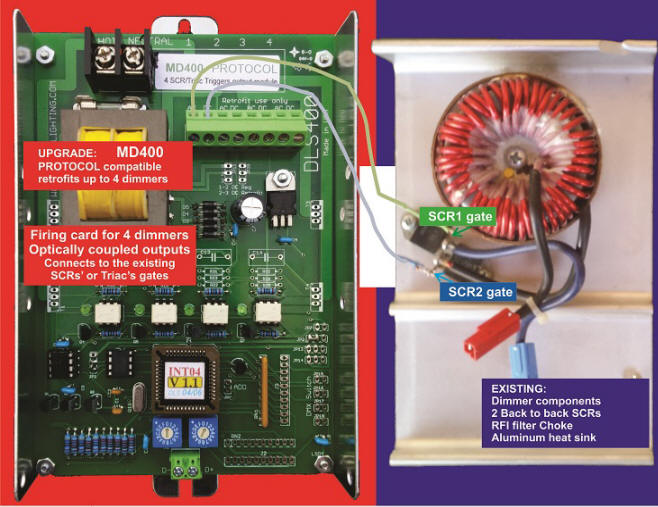 (Shown in example is a PRESCOLITE Dimmer Module HD 3.6 )
MD400: PROTOCOL Logic with 4 optically coupled phase shift dimmer triggers; $280
MD400 existing load assignment schedule form
Also available for triggering Solid State relays with VDC control
MD400-DC (PROTOCOL ) & MD400-DMX-DC ( DMX512 ) for triggering SOLID STATE RELAYS
Made in USA