Digital Lighting Systems, Inc

Room Lighting Control Combiner Patch Panels
(Multi Room Combiners up to 12 rooms)
The PROTOCOL system offers a simple, inexpensive generic electronic patch panel ( rooms combiner )for partitioned hotel Ballroom applications. The PT12 patch panel has the same look as a 16-button Protocol station and fits in a double-gang wall box.

The PT12 patch panel is capable of combining up to 12 rooms in any possible combination and connects to the system over the same 4-wire control bus. The PT04 is a single-gang model for up to 4 ballrooms. Once a combination is entered into the PT12, linking and un-linking rooms is as easy to configure.

Pre-assigned room combinations could be preprogrammed in the PTAxx version for ease of operation. Push one button to combine the rooms and another to separate .

Very easy to operate inexpensive solution for multi partitions Ballrooms lighting controls.

Once rooms are combined their PSFxx control stations will become similar and able to each control all rooms in the combination.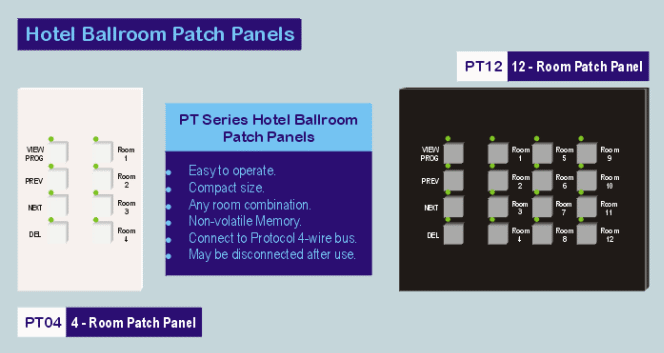 For More Info Call Digital Lighting Systems At: (305) 969-8442 or
[Send Us a Message] [Request Technical Manuals] [Rep / Dealer Inquiry] [E-mail Us]
DLS HOMEPAGE