MCF SERIES Chaser & Fader Lighting Controller, Multiple patterns, variable chasing speed.
Up to 4-Circuit (4 Points ) Electronic Lighting Chasers , user selectable ( 2,3 or 4 steps, channels) Made in USA
The MCF-Series are 4-circuit solid-state lighting chasers / sequencers and cross faders ( auto dimmers ), available in different models for driving 12, 24, 120, or 220 VAC loads. They are commercial grade controllers designed and manufactured in the USA, for applications requiring mutiple pattern chase sequences or color mixing and slow light change. In addition to the industry standard "Single-Lamp Chase", 1-On/3-Off combination, they offer another 14 chase combinations to select from, All On and an automatic pattern running mode.
The Speed Rate and Pattern Selectors are rotary switches with 16 positions. MCF Lighting Chasers are compact in size. In contrast with electro mechanical units, they are less expensive and more reliable because they do not have moving parts or erodible switch contacts. They are constructed to provide years of trouble-free operation. They are available in 12, 24 , 120 & 220 VAC 50/60 Hz and can drive all kinds of loads including LED bulbs and transformer loads in low voltage applications and Neon Cold cathode.
MCF120 Light chasers are used for Marquee signs, store signs, decorative displays, led color changing, Neon signs, 2,3 & 4 step lighting animation, etc...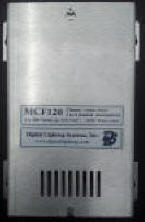 Ordering and Pricing Information
MCF120, lighting Chaser, cross fader,120 VAC Input, 4 x 3.5 A. Outputs at 120 VAC. -$ 235.00
MCF220, lighting Chaser, cross fader,220VAC Input, 4 x 3.5 A. Outputs at 220 VAC. -$ 255.00
Warranty: TWO year limited warranty on parts and labor.
Operating & installationInstructions
Could be ordered with customer specified chase patterns.
Made in USA